For many years now, wood-concrete is number one in choice in terms of noise prevention for streets, highways and railroads. High absorbencies combined with extremely high frost and de-icing salt resistance are the benefits of this natural product. It is specially in this area, where not only technical functionality, but also an aesthetical appealing solutionis required. Together with our customers, we at ZENITH form the corresponding mould systems:
MOULD DESIGN:
Combination of welded and milled designs
High quality wear resistant steel
Shoe clearance 3-4 mm
Shoes easily changeable
Robust and proven design
Exchange moulds feasible
Easy replacement of wearing parts
Interior parts feasible in nitrated (62-68 HRC) version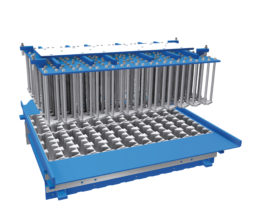 If required, we would be pleased to bring you together with competent partners in the building material industries.