The most beneficial and healthiest warmth during the cold season is provided by the traditional fireplace. Powerful fireplaces and stoves require high-quality concrete stones. Due to several years of experience with the design and construction of these systems, ZENITH  turns the clients vision into shape:
MOULD DESIGN:
Combination of welded and milled designs
High quality wear resistant steel
Shoe clearance 0,5-0,8 mm
Shoes easily changeable
Robust and proven design
Exchange moulds feasible
Easy replacement of wearing parts
Interior parts feasible in nitrated (62-68 HRC) version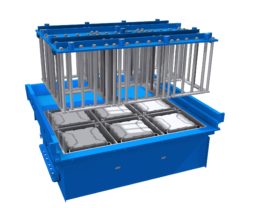 Please note that electric heating systems require an "emergency chimney" too, which is designed for solid fuels but can optionally be used for room ventilation.