For many years now, ZENITH has been manufacturing palisade moulds. These systems are offered in various dimensions and are being implemented in many areas. In numerous applications, such as the prevention of terrain slipping, raised herbal beds, playgrounds and sandbox containments or just for the beautification and safety in city areas, the palisade is a simple and aesthetical excellent solution:
MOULD DESIGN:
Combination of welded and milled designs
Robust and proven design
Exchange moulds feasible
Easy replacement of wearing parts
Hydraulic folding wall elements feasible
Optionally equipped with pneumatic unmoulding support system
On request with plastic components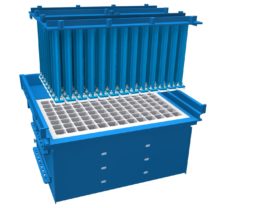 Palisades are a popular and cost effective solution for step designs in gardens and yards aswell.