Whether it is the anchorage of slopes which serves to prevent the slipping of the soil, or the design and beautification of public areas in cities and towns or even only a herb spiral in your own garden. The applications are multifaceted, better and very simple to handle. Especially at the beginning of the planning phase, our project team will assist our customers in giving the right look to a working system:
MOULD DESIGN:
Combination of welded and milled designs
High quality wear resistant steel
Shoe clearance 0,5-0,8 mm
Shoes easily changeable
Robust and proven design
Exchange moulds feasible
Easy replacement of wearing parts
Hydraulic folding wall elements feasible
Interior parts feasible in nitrated (62-68 HRC) version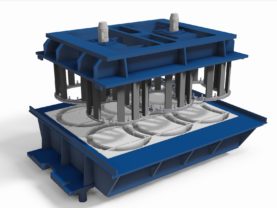 We strongly recommend to involve landscape architects and structural engineers even before the start of the mould design phase, in order to ensure optimal results.